Eyes On Me
(Final Fantasy VIII theme)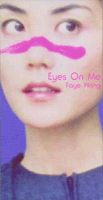 Toshiba EMI catalog number:
TODT-5271
(released 2/24/99 by Toshiba-Emi Ltd.)
Taiwan EMI catalog number:
ED-9001
EMI/CRSC catalog number:
SCD-436

Sung by Faye Wong

3 tracks
Total playing time: 15:45
(14:59 in EMI/CRSC version)
Tracklist

Buy Japanese version from Play-Asia
Buy Japanese version from CD Japan

Sheet music from Gamemusic.com


This 3-inch CD single features the song "Eyes On Me" from the Final Fantasy VIII game for the PlayStation. The shrinkwrap has a bright pink sticker on the outside. The sticker says, among other things, "Sony PlayStation game soft, Final Fantasy VIII, TODT-5271." This song has appeared numerous times on various other CDs, including the Japanese version of Faye Wong's album "Chan You"; remixed versions on Dancemania albums; and a live version on Faye Wong's "HK tour" album. You can get more info on those and many other albums at my misc. CDs page.


---


Toshiba inside cover: Track list; lyrics in English and Japanese (kana) to "Eyes On Me"

Taiwan EMI inside cover: Track list; lyrics in English and kana to "Eyes On Me." Comes with a sheet that has the lyrics to "Eyes On Me" and "AKASHIA no mi" in Chinese characters. Also includes EMI customer survey card.

EMI/CSRC version: This is a weird one that I got off Yahoo Japan. The cover is about 5 inches by 7 inches, and the CD is a full 5-inch one. Track names are in Chinese. The CD's three tracks DO NOT have the karaoke version of "Eyes On Me"'; the third track is sung in Chinese and is listed by its Chinese name, and I have no clue what it is. Inside cover has lyrics to "Eyes On Me" in English and Chinese, and lyrics to "Hong Dou" in Chinese.


---


Interesting note: This is one of the few Final Fantasy-related CD that has an official Taiwan pressing. Faye Wong is a well-known Asian singer who comes from Hong Kong, I believe. The Taiwan release of "Eyes On Me" was published by the same company that released it in Japan. Being so, the sticker on the shrinkwrap is different; it's all in Chinese, for one thing.


---
1
Eyes On Me
5:44
2
AKASHIA no mi (Acacia bean)
Sung in Mandarin. Song title in Chinese is "Hong Dou."
4:20
3
Eyes On Me (instrumental)
This track is different in the EMI/CRSC version.
5:41
3
The Obsession
This is the third track in the EMI/CRSC version. I don't know what it is in Chinese, but it's been translated to "The Obsession."
4:57
---
Back to the main Final Fantasy CD page

Last revised March 25, 2008