Final Fantasy V / 5 + 1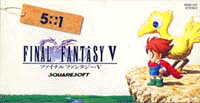 Catalog number: NO9D-012
(released in 1992 by NTT Publishing Co.)

6 tracks
Total playing time: 14:46



This 3-inch CD single contains selected music from the FF5 soundtrack. Five tracks are from the soundtrack; the last track is a previously unreleased song that then appeared on F.F. Mix.
---
Inside front cover: Liner notes. Also includes sticker of the FF5 logo.
---
1
OOPUNINGU
(Opening)
4:31
2
MEIN TEEMA
(Main theme)
2:40
3
HAAVESUTO
(Harvest)
1:50
4
DANJON
(Dungeon)
2:32
5
BATORU 1
(Battle 1)
1:18
6
MATOOYA no doukutsu (SFC version from Final Fantasy)
(Matoya's cave)
1:55
---
Back to the main Final Fantasy CD page

Last revised May 09, 2011