Final Fantasy V
Manbo de Chocobo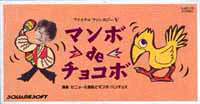 Catalog number: NO9D-016
(released in 1993 by NTT Publishing Co.)

5 tracks
Total playing time: 16:14



This 3-inch CD single showcases the song "Manbo de Chocobo" from the FF5 soundtrack. The other four are original tracks. I believe all these songs can be found on F.F. Mix. Comes with a sticker of the FF5 logo.
---
1
MANBO de CHOKOBO
(Manbo de Chocobo)
3:46
2
Hiryuu no yama
(GEEMU mishuuroku kyoku)
(Flying dragon mountain - unreleased game song)
2:04
3
OOPUNINGU AIDIA, version 2
(GEIMU mishuuroku kyoku)
(Opening idea, version 2 - unreleased game song)
2:16
4
Hikuutei (?), version 2 (GEEMU mishuuroku kyoku)
(Airship, version 2 - unreleased game song)
1:59
5
Final Fantasy Megamix
6:08
---
Back to the main Final Fantasy CD page

Last revised May 09, 2011