Final Fantasy V
Piano Collections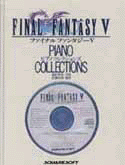 First pressing: N38D-018
(released 6/21/93 under SQUARE BRAND)
Squaresoft catalog number: PSCN-5009
(released in 1994 by NTT Publishing Co., Ltd.
Squaresoft re-release NTCP-1002 (image taken from Playonline)
(released 6/27/01; CD ONLY)

---

EverAnime: GM-470 (CD only)
Top Circle/Yuanding: FF-09 (CD only)

Composed by Nobuo Uematsu

Arranged by Shiro Satou

Performed by Toshiyuki Mori

13 tracks
Total playing time: 46:35
Tracklist

Buy re-release from Gamemusic.com
Buy re-release from Play-Asia
Buy re-release from CD Japan

Sheet music from Gamemusic.com


Contains piano versions of selected songs from Final Fantasy V for the Super Nintendo (Super Famicom) and was never released in the U.S. FF5 was ported to the PlayStation as a solo game, but still not released in the U.S. It finally came over as part of Final Fantasy Anthology for the PlayStation. The music doesn't change from game to game, but in the Anthology release, there is some extra music during the FMV scenes that is not found on any soundtrack.
---
First pressing/Squaresoft version: Comes with a hardcover book that has sheet music to the songs, track list in English and Japanese (kana), and a short paragraph about each song. The CD comes in a plastic insert built into the cover of the book. The first-pressing book cover is cream-colored; the SS version has a kind of marbelized pink color. The scores seem to be for advanced piano. These are DIFFERENT from the piano books sold by DoReMi, which contain ONLY PIANO SCORES to ALL the music in the game and are arranged for beginner to intermediate players.

Squaresoft reissue: CD only comes in a regular jewel case. Liner notes have the track list in kana and a paragraph in Japanese titled "FF5 no omoide" (Memories of FF5). If anyone is willing to translate that, I'll be sure to add it to my site! The back cover has the tracklist in English. This album has a grass theme going, with the back cover and liner notes having a grassy design, and the CD colored a rather horrid green.

Top Circle version: CD only comes in a regular jewel case. Liner notes have the same content and layout as the SS version, except that all company names have been removed from the credits. The CD is white, with the tracklist printed on it in green-colored kana. Also includes a customer survey sheet.


---


English names are taken from the fan-translated FF5 ROM. I don't remember who worked on it, but I believe one of the team was Shadow. If anyone can give me the ROM's credits, please let me know.
1
A Presentiment
OUPUNINGU
(Opening)
4:31
2
Tenderness In the Air
Machi no TEIMA
(Town theme)
4:09
3
Harvest
HAAVESUTO
2:33
4
Ahead On Our Way
FAINARU FANTAJII V MEIN TEIMA
(Final Fantasy V main theme)
3:08
5
Critter Tripper Fritter!?
MOUGURI no TEIMA
(Moogles' theme)
2:38
6
My Home, Sweet Home
Haruka naru furusato
(So far away from home)
3:43
7
Mambo de Chocobo
MANBO de CHOKOBO
2:41
8
Lenna's theme
RENA no TEIMA
(Lenna's theme)
2:52
9
Music Box
Omoide no ORUGORU
(Memory of Olgol)
3:00
10
Battle With Gilgamesh
BIGGU BURICCHI no shitou
(Battle to the death on the big bridge)
3:47
11
Waltz Clavier
TAIKUUN enbukyoku echouchou
(Tycoon waltz in F-major)
2:58
12
Dear Friends
Shin'ai naru tomo e
(Deep affection to a friend)
5:07
13
The New Origin
ENDINGU
(Ending)
5:24
---
Back to the main Final Fantasy CD page

Last revised April 01, 2008