Final Fantasy VI
Stars Vol. 1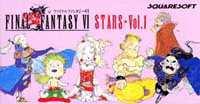 Catalog number: N09D-023
(released in 1994 by NTT Publishing Co.)

5 tracks
Total playing time: 13:04



This 3-inch CD single contains selected themes directly from the Final Fantasy VI (released in the U.S. as Final Fantasy III) soundtrack.


---

Inside front cover: The front cover is a fold-out that contains illustrations by Yoshitaka Amano of Tina, Edgar, Mash (known as Sabin in the English version), Stragus (Strago), Gau, and Cayenne (Cyan); short paragraphs about each character (or so I assume, seeing as I can't read it); the tracklist in English and Japanese (kana); and screenshots from the game with short descriptions.


---

Interesting note: If you're ever searching for these singles, you might find some that have had a corner of the back cover cut off. NTT Publishing was apparently holding some kind of promotion in which you collected points from various CDs, and you could send them in for stuff -- some of the survey cards from older FF CDs had a point value printed on them. Both volumes of the FF6 Stars singles were part of this promotion, and the point value was printed on the upper-left corner of their back covers. Therefore, you had to snip off the corner and send that in. The Japanese on the corner reads "Ouboken," which roughly translates to "subscription ticket."

According to the description of an eBay auction sent to me by Sarah, if you sent in the corners of both FF6 Stars singles, you received a keychain showing the FF6 cast. The picture on the keychain is basically a smaller and combined version of the covers of both FF6 Stars singles. (The picture of the keychain was taken from a YJ auction).


---
1
TINA no TEEMA
(Tina's theme)
Tina
3:54
2
EDOGAA, MASSHU no TEEMA
(Edgar, Mash's theme. Mash was renamed Sabin in the U.S. game.)
Edgar and Mash
2:40
3
SUTORAGOSU no TEEMA
(Stragus' theme)
Stragus
2:14
4
GAU no TEEMA
(Gau's theme)
Gau
1:53
5
KAIEN no TEEMA
(Cayenne's [Cyan's] theme)
Cayenne
2:23
---
Back to the main Final Fantasy CD page

Last revised May 18, 2011