Before Crisis -Final Fantasy VII-
& Last Order -Final Fantasy VII-
Original Soundtrack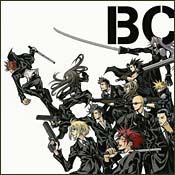 Square Enix catalog number:
SQEX-10087
(released 12/19/07)



---



Miya Records: MICA-0901
KO Records: KO-99064

Music by Takeharu Ishimoto

27 tracks
Total playing time: 63:58
Tracklist
Buy from AnimeNation
Buy from Play-Asia
Buy from CD Japan



Soundtrack to the cell phone RPG "Before Crisis - Final Fantasy VII." This is another of those CDs that has a beleaguered history, for whatever reason. It was originally scheduled to be released Feb. 28, 2007, but then CD Japan listed it as cancelled. Then it was listed with a new release date of Dec. 19, 2007.

Information from CD Japan: Original soundtrack to the hit cell phone network RPG "Before Crisis - Final Fantasy VII." This work is part of the "Compilation of FFVII" series and occurs six years before the events of the original "FFVII" PlayStation game. Also includes the "Last Order" BGM portion of the music included with the previously released limited edition "Final Fantasy Advent Children" box set.


---

Square Enix version: Comes with an obi. The fold-out liner notes include the tracklist in English; messages from composer Takeharu Ishimoto, "Before Crisis" director Hajime Tabata, BC producer Kousei Itou (spelled "Kosei Ito" in English in the liner notes), "Last Order" publicity producer Akio Ofuji, and character designer Tetsuya Nomura; character artwork from BC; and full-color screenshots from LO. The lyrics to "Theme of Elfe" are printed underneath the see-through CD tray in English with a Japanese (kana) translation. Also comes with a Square Enix point card.


---

Interesting note: Akio Ofuji's last name is spelled both "Ohfuji" and "Ofuji" in English in the liner notes. Based on the system of romanization that I use, Ofuji's name should actually be spelled "Oofuji."


---
***

Before Crisis

***
1
Theme of TURKS (BC-FFVII- Version)
3:07
2
Mission
2:09
3
Survive
2:02
4
Secret Action
3:10
5
Theme of Elfe
3:19
6
Black Beat
2:38
7
Desperate Crisis
3:12
8
Last Labyrinth
2:11
9
Rebirth
1:40
***

-Bonus Track-

***
10
Theme of Elfe (Angel)
Lyrics and vocal: WAKAKO
3:46
11
Theme of Elfe (Devil)
Lyrics and vocal: WAKAKO
3:54
12
Rebirth (Edit)
5:13
***

Last Order

***
13
1st Climax
2:45
14
Cremation
1:50
15
Pride of Soldier
1:15
16
Pursuit
1:09
17
Beyond the Death (from Theme of Tifa)
1:13
18
Frenzy of Steel
1:10
19
Sneak Attack
0:50
20
Decision
1:22
21
Serious Attack
2:26
22
Brief Reunion (from Theme of Tifa)
0:53
23
The Truth in the Dark
1:40
24
Theme of Turks 2005
1:19
25
Dear Friend
1:55
26
Last Order
3:32
***

-Bonus Track-

***
27
Last Order (Edit)
4:18
---
Back to the main Final Fantasy CD page

Last revised February 04, 2011