Final Fantasy VII:
Dirge of Cerberus
Original Soundtrack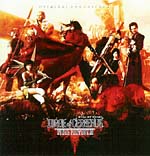 Limited edition catalog number: CRCP-40137
(released 2/15/06 by Nippon Crown)

Regular edition catalog number: CRCP-40139
(released 2/15/06 by Nippon Crown)

---

Miya Records: MICA-0631~3

Composed, arranged, and produced by Masashi Hamauzu

2 discs, 53 tracks total
Total playing time: 2:14:45
Tracklist
Buy LIMITED edition from Gamemusic.com
Buy LIMITED edition from AnimeNation
Buy LIMITED edition from CD Japan

Buy REGULAR edition from Gamemusic.com
Buy REGULAR edition from Play-Asia
Buy REGULAR edition from CD Japan



Contains music to the Playstation 2 game "Final Fantasy VII: Dirge of Cerberus."



---


Limited edition: Comes in a DVD-size case. Includes a deluxe box that is designed to hold the limited-edition DC soundtrack, the limited-edition version of Gackt's single "Redemption" (theme song of DC), and the DC game. If you look closely at the box, you can see Vincent pictured on one side and Gackt (or so I'm assuming) on the other. No obi. Liner notes contents are the same as the regular edition, except the CGI scenes are larger because of the larger space available.

Regular edition: Comes in a standard-sized jewel case. The inside tray flips up to hold both CDs. Includes obi. Liner notes have CGI scenes from the game and lyrics to "Redemption" and "Longing."

Miya Records: Comes in a DVD-sized case and includes 2 CDs and 1 DVD. I do not know what's on the DVD.



| | | |
| --- | --- | --- |
| *** | Disc 1: 30 tracks, 71:07 | *** |
| 1 | Flicker | 1:28 |
| 2 | Calm Before the Storm | 2:21 |
| 3 | Trigger Situation | 2:04 |
| 4 | Prologue of "DIRGE of CERBERUS" | 2:47 |
| 5 | Fragment of Memory | 4:01 |
| 6 | Fearful Happening | 3:53 |
| 7 | WRO March | 2:23 |
| 8 | Azul the Cerulean | 2:15 |
| 9 | Fight Tune "Arms of Shinra" | 3:13 |
| 10 | Abhorrence Whirls | 3:43 |
| 11 | Silent Edge | 3:06 |
| 12 | Undulation | 1:04 |
| 13 | Counteroffensive | 2:20 |
| 14 | Ten-Year Reunion | 3:32 |
| 15 | Fight Tune "Girl Named Shelke" | 2:55 |
| 16 | Fight Tune "Killing One Another" | 2:11 |
| 17 | Uneasy Feelings | 2:51 |
| 18 | Memories with Lucrecia | 1:11 |
| 19 | Sneaky Cait Sith | 3:57 |
| 20 | Darkness | 2:20 |
| 21 | Lifestream | 4:09 |
| 22 | Rosso the Crimson | 1:24 |
| 23 | Mysterious Ninja | 1:11 |
| 24 | Ninja Girl of Wutai | 1:24 |
| 25 | Sudden Parting | 1:11 |
| 26 | Discovery in Sadness | 1:25 |
| 27 | A Proposal | 2:17 |
| 28 | High-Spirited | 0:41 |
| 29 | Return to the Subject | 2:55 |
| 30 | Marching Tune #0 | 0:55 |
| | | |
| --- | --- | --- |
| *** | Disc 2: 23 tracks, 63:38 | *** |
| 1 | Return to the Origin | 2:05 |
| 2 | Marching Tune | 3:51 |
| 3 | Fight Tune "Crimson Impact" | 1:52 |
| 4 | Under a Full Moon | 1:24 |
| 5 | Trespasser | 4:03 |
| 6 | The Transformation Into Chaos | 1:17 |
| 7 | Splinter of Sadness | 2:03 |
| 8 | Deep Darkness of Shinra | 3:55 |
| 9 | Lucrecia Crescent | 3:33 |
| 10 | Forgotten Tears | 1:36 |
| 11 | Fight Tune "Messenger of the Dark" | 2:40 |
| 12 | Awakening | 1:44 |
| 13 | Fight Tune "The Immaculate" | 5:04 |
| 14 | Finally Reborn | 1:36 |
| 15 | The Last SND | 1:37 |
| 16 | Everyone's Help | 1:44 |
| 17 | LONGING | 4:00 |
| 18 | Terminus | 3:02 |
| 19 | Quickening | 3:00 |
| 20 | Death and Rebirth | 1:07 |
| 21 | Chaotic End | 4:29 |
| 22 | REDEMPTION | 4:04 |
| 23 | Hope of the Future | 3:52 |
---
Back to the main Final Fantasy CD page

Last revised March 25, 2008