The Black Mages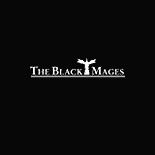 Cover image taken from DigiCube
First pressing:
SSCX-10080
(released 2/19/03 by DigiCube)

Square Enix re-release:
SQEX-10019
(released 5/10/04)



---



Alion International Records: ALCA-8133
Smile Face International Records: KA-060
KO Records: KO-99042

10 tracks
Total playing time: 51:28
Tracklist
Buy re-release from Play-Asia
Buy re-release from CD Japan


This album compiles selected battle themes from various Final Fantasy games. The tracks are all arranged hard-rock style by Nobuo Uematsu and performed by his band, The Black Mages.

There were several live concerts held in Japan featuring these arrangements on April 26 and 27, 2003, called "The Black Mages Live."


---

First pressing: The liner notes have the tracklist in English and an artistic picture of various Black Mages memorabilia, including a T-shirt and poster, and you can see the neck of a guitar in the left side of the picture. The Black Mages logo on the front is in silver foil. Comes with a sticker that acts as an advertisement for "Black Mages Live"; it has the "Black Mages" logo on the front of the sticker and info on the concerts on the back. Also comes with an obi and a customer survey card.

Square Enix version: Barring any corrections or slight text changes that I didn't catch, the liner notes, music and CD are the same as the first version. The only real differences are the new catalog number, the removal of DigiCube information, and the addition of Square Enix information in the liner notes. Comes with an obi.

Alion version: The liner notes are exactly the same as the first pressing, except that all song copyright info and company names have been removed. The Black Mages logo in front is printed in gray and is much smaller than the logo in the official Japanese version.


---
1
Battle Scene (Final Fantasy I)
Arrangement of "BATORU 1"
4:19
2
Clash on the Big Bridge (Final Fantasy V)
Arrangement of "BIGGU BURISSHI no shitou"
4:17
3
Force Your Way
(Final Fantasy VIII)
3:52
4
Battle Scene 2 (Final Fantasy II)
Arrangement of "Sentou SHIIN 2"
3:52
5
Decisive Battle
(Final Fantasy VI)
4:02
6
Battle Theme
(Final Fantasy VI)
3:22
7
J-E-N-O-V-A
(Final Fantasy VII)
6:09
8
Those Who Fight Further (Final Fantasy VII)
Arrangement of "Sara ni tatakau monotachi"
4:25
9
Dancing Mad
(Final Fantasy VI)
12:05
10
Fight With Seymour (Final Fantasy X)
Arrangement of "SHIIMOA BATORU"
5:05
---
Back to the main Final Fantasy CD page

Last revised May 31, 2011