Final Fantasy Vocal Collections I:
Pray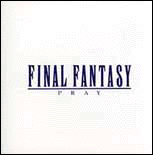 First pressing?: PSCN-5006
(released 6/25/94 by NTT Publishing Co., Ltd.)

Squaresoft catalog number:
PSCN-5006
(released 6/25/94 by NTT)
Squaresoft re-release: NTCP-5006
(released 10/1/04 by NTT)

---

SonMay catalog number: SM-270
EverAnime catalog number: GM-208
Miya Records: MICA-0307

11 tracks
Total playing time: 47:00
Tracklist

Liner notes translation

Buy re-release from Play-Asia
Buy re-release from CD Japan


Contains arranged, vocalized versions of songs from Final Fantasy 1 through Final Fantasy 6.


---

Possible first pressing: The liner notes, CD, and back cover are exactly the same as the SS version. The only thing different I found in this particular copy was the back of the obi. Compare it to the back of the "regular" obi.

Squaresoft version: Tracklist is in mixed English, French, Portuguese, and Japanese (kana). The liner notes cover is glossy and has a embossed, dark-blue logo. It contains: lyrics, including kana translations of the non-English and non-Japanese songs; a message from and profile of Risa Ohki, who did all the vocals; a message from Nobuo Uematsu; and a message from one of the producers, Yukio Kakehi. Printed across the bottom of the lyrics pages are pictures that look like pagan Christian symbols.

Squaresoft re-release: Barring any corrections or slight text changes that might have been made to the profiles, messages, and such that I didn't catch, the liner notes and music are the same as the original SS version. The only real differences are the new catalog number, and minor changes to the obi and the back cover, which you can see by comparing the scans above.

SonMay version: The liner notes cover is not glossy or embossed, and the logo is black. The liner notes have the same content as the official Japanese version, except that the pages do NOT have the symbols across the bottom as in the SS version.


---

Interesting note: The date of release on the Squaresoft re-release is listed as 6/25/94 (the date of the original Squaresoft release), although it was actually re-released on 10/1/04.


---
1
Prelude
Arranged version of the crystal theme. Mainly instrumental, with choral aahs.
3:48
2
The Promised Land
Sung in English. Based on "MEIN TEEMA" from the FF2 OSV.
5:29
3
Mon P'tit Chat
(My kitten)
Sung in French. Based on "Omoide no ORUGOORU" from the FF5 OSV.
3:13
4
Toki no hourousha
(Wanderer of time)
Sung in Japanese. Based on "Tina" from the FF6 OSV.
4:11
5
Hikari no naka e
(Into the light)
Sung in Japanese. Based on "Theme of Love" from the FF4 OSV.
5:28
6
Esperança Do Amor
(Hope of love)
Sung in Portuguese. Based on "Shin'ai naru tomo e" from the FF5 OSV.
3:44
7
Voyage
Sung in Japanese. Based on "The Boundless Ocean" from the FF3 OSV.
4:27
8
Au Palais De Verre
(In the palace of glass)
Sung in French. Based on "MATOOYA no doukutsu" from the FF1 OSV.
3:45
9
Once You Meet Her
Sung in English. Based on "Elia, the Maiden of Water" from the FF3 OSV.
4:18
10
Pray
Sung in Japanese, with some background vocals in English. Vocalized version of the FF prologue.
4:38
11
Não Chora Menina
(Don't cry, little girl)
Sung in Portuguese. Based on "Kids Run Through the City Corner" from the FF6 OSV.
3:59
---
Back to the main Final Fantasy CD page

Last revised May 20, 2011