FITHOS LUSEC WECOS VINOSEC
Final Fantasy VIII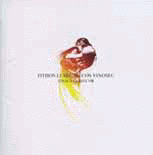 First pressing: SSCX-10037
(released 11/20/99 by DigiCube Co., Ltd.)
Squaresoft catalog number: SSCX-10037 (released 11/20/99 by DigiCube Co., Ltd.)
Square Enix re-release: SQEX-10025 (released 7/22/04)



---



SonMay: none published
EverAnime: GM-229
Top Circle/Yuanding: FF-26 (?)
Miya Records: MICA-0277

13 tracks
Total playing time: 64:17
Tracklist
Buy re-release from Play-Asia
Buy re-release from CD Japan


Contains orchestrated versions of selected songs from the Final Fantasy VIII game for the Playstation.


---

First pressing: Comes in a milky-white, semi-transparent plastic jewel case. The title of the CD is printed directly on the case, and the liner notes cover is light blue with just the FF8 logo -- no words. They contain: an interview titled, "Future Experiences and Fortunes of Nobuo Uematsu"; and lyrics to "Eyes On Me" in English and "Liberi Fatali" in Latin. Includes customer survey card.

Squaresoft version: Comes in a regular jewel case. Liner notes cover is white with the FF8 logo and title of the CD, and the content is the same as the first pressing. Includes survey card.

Square Enix re-release: The jewel case, music content, and liner notes content are pretty much the same as the Squaresoft version, aside from the new catalog number. Also changed was the removal of DigiCube's contact information from the liner notes and the addition of Square Enix's information, and the removal of one of the URLs from the page titled "Future Experiences and Fortunes of Nobuo Uematsu." How do I notice these things? Let's not ask.


---
| | | |
| --- | --- | --- |
| 1 | Liberi Fatali | 3:08 |
| 2 | Blue Fields | 3:37 |
| 3 | Don't Be Afraid | 3:49 |
| 4 | Balamb GARDEN ~ Ami | 5:16 |
| 5 | Fisherman's Horizon | 4:02 |
| 6 | FITHOS LUSEC WECOS VINOSEC | 4:38 |
| 7 | Eyes On Me | 5:40 |
| 8 | The Man with the Machine Gun | 3:38 |
| 9 | Dance with the Balamb-fish | 3:16 |
| 10 | Love Grows | 4:35 |
| 11 | The Oath | 5:10 |
| 12 | Ending Theme | 13:20 |
| 13 | Fragments of Memories | 4:05 |
---
Back to the main Final Fantasy CD page

Last revised January 20, 2011