Project Majestic Mix
Gold Edition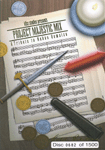 No catalog number
(released June 2002 by KFSS Studios)

| | | |
| --- | --- | --- |
| | | Original music composed by Nobuo Uematsu |
| | | New arrangements by various fans |

2 discs, 28 tracks total
Total playing time: 2:21:14
Tracklist

Contains fan-done arrangements of various Nobuo Uematsu songs, mainly from the Final Fantasy games. This includes all the songs in the Silver Edition with some extras. Comes in a double-DVD case. Liner notes contain messages from the various remixers and thoughts on the creation of this collection. For more info, see their official site.
Gold Edition sets were generally available only to those who donated money to the project. They are individually numbered from 1 to 1500, and the number you got corresponded with the order in which your donation was received. Also included sheet music to "Forever Rachel" with lyrics written by Ryan Geiger. But due to copyright restrictions, the lyrics could not be included in the actual recording.
The Gold Edition admittedly had some quality control problems. The printing of some liner notes was off-centered or very light. In addition, the back cover design seems to have been truncated, because there are names at the bottom that have been cut off.
PMM is the work of KFSS Studios, which plans to do other such tribute albums. If you're not a member of PMM's mailing list, click here to join. For more info, see their official site.
***

Disc 1: 15 tracks, 69:50

***
1
Prelude (Final Fantasy)
Arranged by Mustin
5:10
2
Final Fantasy I Main Theme
Arranged by JAXX
2:03
3
Town (FF2)
Arranged by Dale North
3:51
4
Battle With Gilgamesh (FF4)
Arranged by Chris Tilton
4:59
5
Within the Giant (FF4)
Arranged by Stephen Kennedy
7:45
6
Elia, Maiden of Water (FF3)
Arranged by Jonathan Geer
4:02
7
Coast of the Sun (FF7)
Arranged by Mustin, Chris Strom, Nathan McLeod and David Embree
3:47
8
Anxious Heart (FF7)
Arranged by Jan Van Valburg and Stephen Kennedy
5:52
9
Cayenne (FF6)
Arranged by Stephen Kennedy
8:04
10
Seymour's Theme (FF10)
Arranged by Mustin
3:36
11
The Man With the Machine Gun (FF8)
Arranged by Jan Van Valburg
4:14
12
Sealed Door (ChronoTrigger)
Arranged by Mike "McVaffe" Vafeas
5:38
13
Sentinel (Gun Hazard, aka Front Mission)
Arranged by Dale North
3:00
14
You're Not Alone! (FF9)
Arranged by Dale North and Sean Stone
2:47
15
Prelude (Final Fantasy)
Arranged by Sean Stone
4:54
***

Disc 2: 13 tracks, 71:24

***
1
Vivi's Theme (FF9)
Arranged by Stephen Kennedy
5:36
2
Forever Rachel (FF6)
Arranged by Chris Tilton
4:09
3
Cait-Sith's Theme (FF7)
Arranged by Randy Brown
2:46
4
Balamb GARDEN (FF8)
Arranged by Stephen Kennedy
4:26
5
Final Fantasy IV Main Theme
Arranged by Stephen Kennedy
5:34
6
One-Winged Angel (FF7)
Arranged by Randy Brown
4:21
7
Within the Giant (Remix) (FF4)
Arranged by Stephen Kennedy
6:01
8
Rydia (FF4)
Arranged by Matt Stofferahn
5:15
9
Compression of Time (FF8)
Arranged by Stephen Kennedy
3:47
10
Elia, Maiden of Water (instrumental) (FF3)
Arranged by Jonathan Geer
4:12
11
Eternal Wind (FF3)
Original arrangement by Mister G; arranged by FFMusicDJ
4:59
12
Ending Theme (FF6)
Arranged by Chris Tilton
13:55
13
Forever Rachel (Jan's alternate version)
Arranged by Jan Van Valburg
6:16
---
Back to the main Final Fantasy CD page

Last revised September 03, 2007