real Emotion / 1000 no kotoba
(Final Fantasy X-2)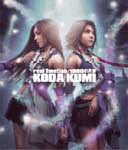 (Cover image taken from
the Koda Kumi official site)
Squaresoft catalog number:
RZCD-45080
(released 3/5/03 by Avex - Rhythm Zone)

Sung by Koda Kumi

4 tracks
Total playing time: 20:02
Tracklist

Buy from Play-Asia
Buy from CD Japan


Contains the songs "real Emotion," the theme song to the Final Fantasy X-2 game for the PlayStation 2, and "1000 no kotoba," an insert song for the game. This is an Avex copy-protected CD. To learn more about this copy protection, click here.

There are several versions of both "real Emotion" and "1000 no kotoba" available. This CD has the original, full-length Japanese versions of the songs. The official English versions, found in the English release of the game, were sung by Jade from the group Sweetbox. Kumi Koda also made her own English versions (with different lyrics from the Jade versions but still capturing the same sentiment), neither of which appeared in any game release. Those songs were released on Kumi Koda's single "Come With Me." Check the misc. FF CDs page for more info on that single.
---
Squaresoft version: Includes an insert that has: an ad for the FFX-2 game; ads for other Kumi Koda CDs and the FFX-2 soundtrack; and an explanation of the copy protection. Liner notes have lyrics in Japanese (kana).
---
Interesting note: When I put this CD into my Mac's CD drive (I had totally forgotten about the copy protection), iTunes showed the last song had a play time of over 8 minutes, even though the actual music was only about 6 minutes long. The rest of that time was silence. When I ripped the last track using iTunes, the drive started making funny noises and quit importing after about 7 minutes.
When I put the CD into a regular CD player or stereo system, it showed the last track with its correct playing time of 6 minutes.
With this experience, I'm interested in checking out other Avex copy-protected CDs and seeing if my Mac can successfully import that music.
1
real Emotion (original mix)
4:01
2
1000 no kotoba (original mix)
(1000 words) FFX-2 insert song. "1000" is "sen" in Japanese. So the title is pronounced "Sen no kotoba."
6:03
3
real Emotion (instrumental)
3:59
4
1000 no kotoba (instrumental)
5:59
---
Back to the main Final Fantasy CD page

Last revised March 25, 2008