Seiken Densetsu Original Sound Version
(Final Fantasy Gaiden)
(Final Fantasy Adventure)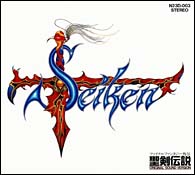 SQUARE BRAND: N23D-003
(released 7/15/91)



---



SonMay: GAME-045

| | | |
| --- | --- | --- |
| | | Composed/arranged by Kenji Ito |
| | | Track 17 originally composed by Nobuo Uematsu |

27 tracks
Total playing time: 34:49
Tracklist

Related works (non-bootleg)


Contains music to the Seiken Densetsu (which translates to "Legend of the Sacred Sword") game for the Gameboy. Seiken Densetsu is actually the first game in the Mana game series, but it was released as Final Fantasy Adventure in the U.S. This soundtrack had only one print run and does not have a reprint by itself. However, the music on this CD and on the arranged CD Omoi wa Shirabe ni Nosete were collected onto one CD, titled Final Fantasy Adventure Sound Collections, and reprinted in 1995.

This CD comes up for auction on Yahoo Japan every so often, so you may want to check there if you'd like to get this CD. Do a search for "Seiken Densetsu" written in hiragana. Read more about buying through YJ at my YJ tutorial.

This game was remade as "Sword of Mana" for the Gameboy Advance and a lot of the music was also redone. For more on the Sword of Mana music, check out the misc. CDs page.


---

SQUARE BRAND version: Comes in a thick, cardboard folder-like case with the liner notes glued to the cover. The liner notes contain: a synopsis of the game's story; track list in mixed English and Japanese (kana); artwork by Hitoshi Yoneda; and messages from various people associated with the game and music.

SonMay version: Comes in a regular-sized jewel case. The liner notes have the same content and layout as the Square Brand version (including all company names in the credits!), except that the page with the story synopsis is at the back of the booklet instead of the front, and it does not have the second page of artwork that goes along with the synopsis. Also includes a sticker with a picture of the front cover, and a customer survey sheet.


---
1
Rising Sun
1:43
2
Kakutougijou
(Fighting arena)
0:44
3
Requiem
1:01
4
Hateshinaki senjou
(Endless battlefield)
1:29
5
Mura
(Village)
1:04
6
Machi (mihabbyou kyoku)
(Town - unpublished song)
1:44
7
DOWAAFU no TEEMA
(Dwarf's theme)
0:52
8
GURANSU koukoku
(Glance dukedom. I believe "Glance" was renamed as "Glaive" in the U.S. version.)
1:30
9
DANJON 1
(Dungeon 1)
1:34
10
Sentou 1
(Battle 1)
1:27
11
Oukyuu no TEEMA
(Theme of royal palace)
1:00
12
MANA no shimei
(Mana's mission)
1:13
13
Danger!
0:29
14
JEMA no jikaku
(Gemma's realization)
1:03
15
Seiken o motomete
(In search of the sacred sword)
1:33
16
CHOKOBO tanjou
(Birth of chocobo)
0:28
17
CHOKOBO no TEEMA
(Chocobo's theme)
0:51
18
DANJON 2
(Dungeon 2)
1:11
19
MOUGURI
(Moogle)
0:10
20
DANJON 3
(Dungeon 3)
0:59
21
Sentou 2
(Battle 2)
1:31
22
Kanashimi no naka de
(In sorrow)
1:36
23
Omoi wa shirabe ni nosete
(Let thoughts ride on melody)
1:02
24
MANA no shinden
(Mana temple)
1:37
25
JURIASU no yabou
(Julius' ambition)
0:34
26
Saigo no kessen
(Final decisive battle)
2:03
27
Densetsu yo eien ni
(Legend forever)
4:07
---


Related works: CDs with arrangements of Seiken Densetsu tunes. All arrangements of the FF Prelude, FF Prologue, the Victory Theme, and the Chocobo Theme are listed with the FF1 soundtrack.
---
Back to the main Final Fantasy CD page

Last revised August 10, 2010