Final Fantasy XIII
Original Soundtrack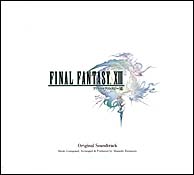 Limited edition catalog number: SQEX-10178-82
(released 1/27/10 by Square Enix)

Regular edition catalog number: SQEX-10183-6
(released 1/27/10 by Square Enix)



---



Miya Records (limited-edition style): MICA-1125-9

4 discs (5 in limited edition)
85 tracks total
Total playing time:
Tracklist

Selected liner notes

Related works (non-bootleg)

Buy REGULAR EDITION from Play-Asia

Buy REGULAR EDITION from CD Japan


Soundtrack to the game Final Fantasy XIII for the Playstation 3. Check Square Enix's official site for the soundtrack (all in Japanese) if you'd like to read comments from composer Masashi Hamauzu about his thoughts on each song.

Both the limited-edition and regular-edition CDs were part of a "soundtrack campaign" by Square Enix that ran from Dec. 1, 2009, to Feb. 28, 2010. I have no idea what the details are, but it seemed to partially involve the SE point cards. Included with the soundtrack is a flyer explaining the campaign; for anyone who wants to try to translate it, here are scans of the front and the back. The flyer is different from the one included in the Four Warriors of Light soundtrack. The back of the flyer has some kind of point value printed in the corner; what it's used for, I don't know.



---

Limited edition:


The limited edition comes in a glossy cardboard box measuring about 7.75 inches square and a little less than 2 inches deep. The liner notes are called a "Visual Book" and are just a bit smaller than the box and fit inside it. The so-called visual book contains the same messages from composer Masashi Hamauzu, director Motomu Toriyama, and producer Yoshinori Kitase as the ones found in the regular edition. It also most, but not all, of the same game screenshots as the regular edition, in addition to other CGI artwork and color illustrations by Yoshitaka Amano that are not found in the regular edition.

The music CDs come in a fold-out cardboard case. The tracklist is the same as the regular edition and is printed on the inside flaps. The CD trays are clear plastic with more CGI game scenes underneath them. The lyrics to all the same songs as the regular edition are also printed underneath the CD trays. The lyrics to Sugawara's songs, along with the same profile of her found in the regular edition, are printed on the back inside flap. The CDs slide into a clear plastic slipcase that has the soundtrack name and catalog number printed on it. Also comes with the same merchandise flyer found with the regular edition, and a Square Enix point card. Does NOT come with an obi.

The bonus CD is an audio drama called "Episode Zero -Promise-: Story01 -ENCOUNTER-" in a separate jewel case. It originally comes packaged in a silver foil wrapper, and the actual CD has clear plastic shrinkwrap. The liner notes are called a "Scenario Book" that has the audio drama's script in Japanese. The CD tray is clear plastic and the staff and cast credits are printed underneath.
Regular edition:
| | | |
| --- | --- | --- |
| | | The CDs come packaged in a fold-out cardboard case with various CGI artwork decorating the flaps and underneath the clear-plastic CD trays. The case slides into a thin cardboard slipcase that has the FF13 logo on the front. The liner notes fit inside the slipcase and contain the tracklist in mixed Japanese (kana) and English, with their own English interpretations; messages in kana from composer Masashi Hamauzu, director Motomu Toriyama, and producer Yoshinori Kitase; lyrics to "Ragnarok," "Sunleth Waterscape," "Serah's Theme," "Chocobos of Cocoon," "Fighting Fate," "Choose to Fight," "Sulyya Springs," "Dust to Dust," "Born Anew," "Kimi ga iru kara" (long version) and "Eternal Love" (short version); a brief profile of Sayuri Sugawara; and various CGI artwork of the characters and scenes from the game. Some of those pictures are NOT found in the limited edition. Also includes a flyer advertising FF13 Play Arts action figures and various other FF13-related merchandise. Also comes with a Square Enix point card. Does NOT come with an obi. |
---


The tracklisting in the liner notes is in mixed Japanese (kana) and English. The Japanese names have their own English translations, which are in bold italics and are not necessarily literal ones. I've given the literal translations where applicable.
***
Disc 1: 19 tracks, 49:26
***
1
FINAL FANTASY XIII PURERYUUDO
Prelude to FINAL FANTASY XIII
(Final Fantasy XIII prelude)
2:55
2
FINAL FANTASY XIII ~Chikai~
FINAL FANTASY XIII - The Promise
(Final Fantasy XIII ~Oath~)
1:33
3
Dai-13-nichi
The Thirteenth Day
(The 13th day)
0:53
4
Unmei e no hangyaku
Defiers of Fate
(Treachery of fate)
2:24
5
BUREIZU EJJI
Saber's Edge
(Blaze edge)
3:14
6
Fuusa kukaku HANGUDO EJJI
The Hanging Edge
(Blockade boundary Hanged Edge)
3:25
7
PAAJI sareru monotachi
Those For the Purge
3:05
8
Kaeru tame no tatakai
The Warpath Home
3:33
9
Gekai (PARUSU) FARUSHI
The Pulse Fal'Cie
(Literally, "Fal'Cie, the nether world," but "gekai" has been retranslated as "pulse")
1:13
10
Nigete mo ii no
Face It Later
(It's all right to run away)
0:54
11
SUNOU no TEEMA
Snow's Theme
3:48
12
Iseki (?)
The Vestige
(Unusual marks)
2:48
13
RAGUNAROKU
Ragnarok
3:47
14
Ano hi no sora
Into the Sky That Night
(The sky on that day)
1:24
15
Eien no chikai
Promised eternity
2:24
16
Eternal Love (Short Version)
Eternal Love (Short Version)
3:27
17
BIRUJI mizuumi
Lake Bresha
4:11
18
Gekai (PARUSU) L'Cie
The Pulse L'cie
(Literally, "L'Cie, the nether world," but "gekai" has been retranslated as "pulse")
1:38
19
Shoukan kedamono
Eidolons
(Summoned beasts)
2:50
***
Disc 2: 22 tracks, 55:51
***
1
Senkou
Blinded By Light
(A flash)
2:54
2
Eikou FANFAARE
Glory's Fanfare
0:09
3
BATORU RIZARUTO
Battle Results
1:15
4
Tsukanoma no ansoku
A Brief Respite
(A brief rest)
2:08
5
Kiheitai no TEEMA
Cavalry Theme
2:37
6
Dasshutsu
Escape
1:59
7
Gekitsui
Crash Landing
(Shooting down aircraft)
1:05
8
AFURO BURUUSU
Daddy's Got the Blues
(Afro blues)
4:27
9
Iki ryouiki VAIRU PIIKUSU
The Vile Peaks
(The abandoned area Vile Peaks)
3:03
10
RAITONINGU no TEEMA
Lightning's Theme
2:26
11
SAZZU no TEEMA
Sazh's Theme
3:25
12
DOREDDONOOTO daibakushin!
March of the Dreadnoughts
(Dreadnoughts' large bombing attack!)
2:31
13
GAPURA jurin
The Gapra Whitewood
(Gapra forest)
2:45
14
Kinpaku
Tension in the Air
(Tension)
3:28
15
Hatenaki shissou
Forever Fugitives
(Endless running)
1:50
16
SANRESU suigou
The Sunleth Waterscape
(Sunleth, riverside area)
3:46
17
Miushinatta kibou
Lost Hope
2:58
18
RUSHI kari sakusen
To Hunt L'Cie
(L'Cie's hunting tactics)
2:41
19
Kibounaki tousou
No Way to Live
(Hopeless conflict)
2:04
20
Onshuu no hate
Sustained by Hate
(The end of love and hate)
2:38
21
GURAN=PARUSU no RUSHI
The Pulse L'Cie
(Gran-Pulse of L'Cie)
4:12
22
SERA no TEEMA
Serah's Theme
1:30
***
Disc 3: 22 tracks, 63:27
***
1
Touchan funtou daa!
Can't Catch a Break
(It's daddy's struggle!)
5:19
2
PSICOM
PSICOM
1:02
3
HOOPU no TEEMA
Hope's Theme
3:31
4
Omae no ie wa koko da
This Is Your Home
(Here, at your house)
2:16
5
Tsugunai
Atonement
4:24
6
VAANIRA no TEEMA
Vanille's Theme
2:59
7
Kokugen
The Final Stage
(Appointed time)
0:42
8
PONPA SANKUTA
The Pompa Sancta
2:12
9
Kanraku toshi NOOCHIRASU
Nautilus
(Pleasure town Nautilus)
4:58
10
KOKUUN de CHOKOBO ~Yume o miyou yo II~
Chocobos of Cocoon - Chasing Dreams
2:57
11
Itsuwari no kyouen
Feast of Betrayal
(Feast of lies)
3:17
12
Yume no owari
Eidolons of Parade
(The dream's end)
3:36
13
RUSHI no shiren
Test of the L'Cie
(L'Cie's ordeal)
2:23
14
Sekai no teki
All the World Against Us
(Enemy of the world)
1:16
15
GEEMU OOBAA
Game Over
1:15
16
Seifu (?) daihyou DAISURI
Primarch Dysley
(Holy government representative Dysley)
3:02
17
Shukumei e no koui
Fighting Fate
(Fight against fate)
2:28
18
RUSHI-tachi no omoi
Separate Paths
(Memories of the L'Cie)
2:42
19
Tsugi yuku ishi
Setting You Free
(Successor's determination)
2:17
20
Shitou
Desperate Struggle
(Deadly battle)
3:49
21
Shinpi
Mysteries Abound
(Mystery)
2:41
22
Choose to Fight
Will to Fight
(Yes, the English "translation" actually is "Will to Fight.")
4:21
***
Disc 4: 22 tracks, 75:21
***
1
FANGU no TEEMA
Fang's Theme
3:31
2
Ikyou tairiku GURAN=PARUSU
Terra Incognita
(Foreign continent Gran-Pulse)
2:18
3
ARUKAKIRUTI daiheigen
The Archlyte Steppe
(Archlyte, the great plains)
4:24
4
PARUSU de CHOKOBO
Chocobos of Pulse
(Pulse de chocobo)
4:19
5
YASHASU yami
The Yaschas Massif
(Yaschas mountain)
2:10
6
Yasashii omoide
Memories of Happier Days
(Tender memories)
3:14
7
SUURIYA mizuumi
Sulyya Springs
(Sulyya lake)
3:25
8
TEEJAN TAWAA
Taejin's Tower
3:08
9
Iro no nai sekai
Dust to Dust
(Colorless world)
3:49
10
Kikyou
The Road Home
(Homecoming)
1:06
11
KAUNTODAUN
Start Your Engines
(Countdown)
3:23
12
Douran no EDEN
Eden Under Siege
(Commotion in Eden)
2:34
13
Shuuen no youran
The Cradle Will Fall
(Cradle's demise)
3:58
14
Koutan
Born Anew
(Regal birth)
2:58
15
Tsumibukaki kibou
Sinful Hope
3:44
16
FABURA NOVA KURISUTARISU
Fabula Nova Crystallis
2:40
17
FINAL FANTASY XIII ~Kiseki~
FINAL FANTASY XIII ~Miracles~
2:49
18
Shimei
Focus
(Mission)
2:21
19
Seitan no REKUIEMU
Nascent Requiem
(Requiem of birth)
5:03
20
Ketsui
Determination
3:22
21
Kimi ga iru kara (Long version)
Kimi ga Irukara (Long Version)
(Because you're here - Long Version)
6:23
22
ENDINGU ROORU
Ending Credits
(Ending roll)
4:42
***
Bonus disc (limited edition only)
Final Fantasy XIII Episode Zero -Promise-
Story 01 -ENCOUNTER-
7 tracks, 23:43
***
1
Chapter 01
5:49
2
Chapter 02
5:25
3
Chapter 03
1:47
4
Chapter 04
4:05
5
Chapter 05
1:42
6
Chapter 06
2:29
7
Chapter 07
2:26
---


Related works: CDs with arrangements of FF13 tunes. All arrangements of the FF Prelude, FF Prologue, the Victory Theme, and the Chocobo Theme are listed with the FF1 soundtrack.
---
Back to the main Final Fantasy CD page

Last revised May 13, 2015