Final Fantasy XIII
Original Soundtrack PLUS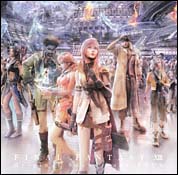 Soundtrack to the International version of Final Fantasy XIII. It includes extra tracks that were not in the original release of the game. As an editorial comment, this has the most seemingly random song titles EVER (see track #6).


---

Square Enix version: The liner notes come with the tracklist in mixed Japanese (kana), romaji, and English; notes on each track by composer Masashi Hamauzu; photos of Hamauzu and his signature; and CGI artwork of the characters. Also comes with a Square Enix point card.



---


All song title translations use the official English title as printed in the original soundtrack. Please refer to that page if you would like to know the literal translations of the Japanese.


1
PV "FINAL FANTASY XIIX 2007 JFS"
3:00
2
PV "FINAL FANTASY XIII 2006 E3"
2:33
3
M1 No.2 title α Version
1:33
4
M3 No.4 BossA α Version
3:13
5
M306 OPN2 "Unmei e no hangyaku" PARAMEKIA totsunyuu Version
(Defiers of Fate - Palamecia attack version)
5:12
6
Hope_PfNer3
2:14
7
M42E "SANRESU suigou" Kaigai Version
(Sunleth Waterscape - Overseas version)
3:47
8
M36A "GAPURA jurin" Instrumental
(The Gapra Whitewood - Instrumental)
2:46
9
M74_2 PRO "Shukumei e no koui" KOORASU nashi Version
(Fighting Fate - chorus-less version)
2:15
10
M64E "KOKUUN de CHOKOBO" English Version
(Chocobos of Cocoon - English version)
3:03
11
M33 Lightning NW Version
2:26
12
M181 Shugeki2 Prototype
(Attack2 prototype)
3:07
13
M44B SAZZU B+ Prototype
(Sazh B+ Prototype)
5:25
14
M106 Last Battle Prototype+
3:24
15
M5_2 "Senkou" Long Version
(Blinded By Light - Long version)
2:32
16
M42 "SANRESU suigou" Instrumental
(Sunleth Waterscape - Instrumental)
3:46
---
Back to the main Final Fantasy CD page

Last revised May 13, 2015