Final Fantasy: Unlimited
Music Adventure Verse.2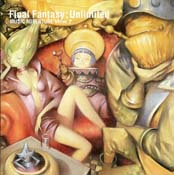 Catalog number: AVCA-14339
(released 4/17/02 by avex trax)



---



Smile Face International Records (Taiwan bootleg): HO-039

Music by Nobuo Uematsu, Shirou Hamaguchi and Akifumi Tada

37 tracks
Total playing time: 66:41
Tracklist
Buy from Play-Asia
Buy from CD Japan


Second soundtrack to the second Final Fantasy anime, called "Final Fantasy: Unlimited," which started broadcasting in Japan in October 2001.

In my translations of the track titles, I have used the characters' names as they were spelled in the subtitles in the U.S. anime release from ADV.


---

Avex version: The liner notes contain the tracklist in Japanese (kana); a short history of the anime, talking about the game series and music; a short dialogue between composers Shirou Hamaguchi and Akifumi Tada; short bios of Hamaguchi and Tada; 2 pages of color screenshots from the anime; some kind of in-depth tracklist that I can't understand; and lyrics to all the vocal songs on the CD. Also comes with a character card similar to the one included with the first soundtrack, and a customer survey card addressed to Avex. The character card has a truncated picture of the CD cover on one side, and the same picture in red on the other side.

Smile Face version: The liner notes fold out rather than being stapled into a book like the Avex version. Liner notes contain: tracklist in kana; the in-depth tracklist; and lyrics to all the vocal songs. Printed on the CD is a picture of the soundtrack cover.


---

Interesting note: Fairy Fore, the group that sang the theme song "Vivid," is mispelled as "Fairy Force" in the Avex tracklist in the liner notes. That error also carried over to the Smile Face version.


---

Tracks with a star ( * ) in front were composed by Uematsu. Tracks with a plus ( + ) in front were composed by Hamaguchi. All others were done by Tada.



1
* Inori - RISA
(Prayer - Lisa)
1:17
2
* Kokyou - Kaze
(Hometown - Kaze)
0:56
3
* Kioku - Kaze
(Memory - Kaze)
0:58
4
* Over the FANTASY (TV SAIZU)
(TV size)
Performed by Kana Ueda
1:38
5
+ Senkoutei
(Submarine)
1:21
6
Umi PAZURU
(Ocean puzzle)
2:43
7
+ Tsuioku - AI to YUU
(Recollection - Ai and Yu)
1:38
8
+ Heiwa ~ kusen - AI to YUU
(Peace ~ Hard fight - Ai and Yu)
3:03
9
+ Kusen
(Hard fight)
2:03
10
Kigenjuu
(Spirit beast)
1:10
11
+ KOMODIIN
2:11
12
+ MIIRESU
1:33
13
SHIDO
(Cid)
3:35
14
SABOTENDAA
2:31
15
+ RUU
1:20
16
+ Henshin - RUU
(Metamorphosis - RUU)
2:26
17
MOUGURI
1:07
18
* CHOKOBO
(Chocobo)
2:59
19
* SHIERU CHOKOBO
(Ciel chocobo)
1:345
20
VIVID (TV SAIZU)
(TV size)
Performed by Fairy Fore
1:31
21
+ FUNGUSU
(Fungus)
1:24
22
+ HERUBA
(Herba)
1:39
23
+ PISUTO
1:47
24
+ OSUKAA
(Oscha)
1:52
25
+ Kyouteki
(Formidable enemy)
3:52
26
Nigeru!
(Escape!)
1:16
27
+ OMEGA
(Omega)
1:30
28
SHOTTOGAN - Kaze
(Shotgun - Kaze)
1:39
29
+ Ma kenshi
(Demon swordsman)
1:52
30
Ittou kedamono
(Sword beast)
1:58
31
Ma tsurugi
(Demon sword)
1:23
32
Shi
(Death)
2:35
33
+ Shitou
(Struggle to the death)
2:10
34
+ FENIKKUSU
(Phoenix)
0:41
35
* Shouri
(Victory)
0:13
36
+ Hikuutei
(Airship)
1:32
37
Romancing Train (TV SAIZU)
(TV size)
Performed by Move
1:43
---
Back to the main Final Fantasy CD page

Last revised May 10, 2011