Tsuki no akari
-Final Fantasy IV Ai no TEEMA-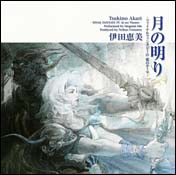 Theme song to the upcoming Final Fantasy IV re-release for the Nintendo DS. Includes a DVD (region 2) with the music video for "Tsuki no Akari" and a couple of promotional movies for the game.

Personally, I don't like this version of the song as much as I like the one done previously by Risa Ohki. Ohki has a much stronger voice, compared to Ida's rather breathless tones.


---

Square Enix version: Comes in a regular-sized jewel case with an inside tray that flips up to hold both discs. There is no back paper cover. The liner notes include CGI character designs of Cesil, Cain, Rosa, Rydia, Gilbart, Edge, Yang, Porom and Palom; lyrics to "Tsuki no akari" in Japanese (kana); a photo and brief profile of Megumi Ida; and artwork by Yoshitaka Amano of some of the main characters that includes child Rydia, Tellah, and Cid. And yes, those are how the names are spelled in English in the liner notes.
1
Tsuki no akari -FAINARU FANTAJII IV Ai no TEEMA-
(The light of the moon -Final Fantasy IV Theme of Love-)
5:01
2
Ai no TEEMA -DS han-
(Theme of love -DS version-)
3:53
3
Ai no TEEMA -SFC han-
(Theme of love -Super Famicom version-)
2:30
4
Tsuki no akari -FAINARU FANTAJII IV Ai no TEEMA- (karaoke)
(The light of the moon -Final Fantasy IV Theme of Love- karaoke)
4:58
***

DVD playlist

***
1
Promotion video - CG version
Intersperces CG scenes from the game with scenes from the solo version of Megumi Ida singing. As you can probably tell from the playtime, it cuts out a couple verses of the song.
2:56
2
Promotion video - Solo version
Pure music video of Ida singing
2:56
3
Promotion CG Movie - Tokyo Game Show 2007
This is the trailer that was shown at the Tokyo Game Show and was available on Square Enix's site. It uses CG scenes and regular scenes from the game.
2:31
---
Back to the main Final Fantasy CD page

Last revised March 25, 2008