The Black Mages III:
Darkness and Starlight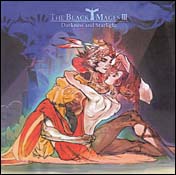 This album compiles arrangements of certain songs from various Final Fantasy games, with one non-FF track. Unlike past Black Mages CDs, this one does not have all battle themes. The tracks are arranged hard-rock style by Nobuo Uematsu. Head over to Square Enix's site for more info on this CD.


---

Liner notes: Includes tracklist in English; photos of the band's musicians, Keiji Kawamori, Michio Okamiya, Nobuo Uematsu, Arata Hanyuda, Tsuyoshi Sekito, and Kenichiro Fukui; and lyrics to "Darkness and Starlight" in Japanese (kana).


---
1
Opening - Bombing Mission
(from Final Fantasy VII "OOPUNINGU ~Bakuha MISSHON~"
(FF7: Opening - Bombing mission)
4:39
2
Neo EXDEATH
(from Final Fantasy V "Saigo no tatakai")
(FF5: Last battle)
4:39
3
The Extreme
(from Final Fantasy VIII "The Extreme")
5:51
4
Assault of the Silver Dragons
(from Final Fantasy IX "Ginryuu ikusa")
(FF9: Attack of the silver dragons)
5:01
5
KURAYAMINOKUMO
(from Final Fantasy III "Saigo no shitou")
(FF3: Final battle to the death. "Kurayami no kumo" translates to "Clouds of darkness.")
4:56
6
Distant Worlds
(from Final Fantasy XI "Distant Worlds")
7:31
7
Premonition
(from Final Fantasy VIII "Premonition")
5:23
8
Grand Cross
(from Final Fantasy IX "Saigo no tatakai")
(FF9: Last battle)
5:34
9
Darkness and Starlight
(from Final Fantasy VI "OPERA ~MARIA to DORAKKUU")
(FF6: Opera ~Maria and Draco")
15:32
10
LIFE ~ in memory of KEITEN ~
1:38
---
Back to the main Final Fantasy CD page

Last revised May 13, 2015