Final Fantasy VII
Original Soundtrack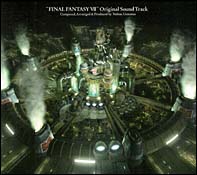 Squaresoft catalog number:
SSCX-10004
(released 2/10/97 byDigiCube)
Square Enix re-release:
SQEX-10001-4
(released 5/10/04 by Square Enix)



---



SonMay: A&G-007~010
EverAnime: GM-219, 220, 221, 222
Archer Records: I haven't found the number, but here's a picture of it
KO Records: KO-99001-4

Miya Records: MICA-0071-4

JAM (Japan Anime Records): JD001-C

Composed/arranged by Nobuo Uematsu

4 discs, 85 tracks total
Total playing time: 4:34:07
Tracklist

Liner notes translations

Related works (non-bootleg)


Buy re-release from Play-AsiaBuy re-release from CD Japan


Soundtrack to the Final Fantasy VII game for the Playstation.


---
Squaresoft version:
| | | |
| --- | --- | --- |
| | | The liner notes are as large as the jewel case and so they do not fit inside; they come seprately outside the jewel case. The liner notes cover has a white background with art by Yoshitaka Amano of Cloud and Aeris sitting down. It has only a few of the CG shots found in the limited edition, and the arrangement is different. They also have the tracklist in Japanese (kana); Amano art of Cloud on a motorcycle; a message from Nobuo Uematsu; and illustrations of the main characters by Tetsuya Nomura. These liner notes are MISSING the extra messages from Square producer Tadashi Nomura and Digicube music director Kensuke Matsushita that were found in the limited edition. Comes with slipcase that has a picture of Midgar on the front and back. Also comes with a customer survey card and a sheet of stickers that has: a view of Midgar; the FF7 logo; Cloud with his cycle; a group shot of Aeris, Barrett, Cloud, and Cid; and Amano artwork of Aeris and Cloud. Does NOT come with an obi. |
Square Enix re-release:
| | | |
| --- | --- | --- |
| | | The page in the liner notes giving the staff and music credits has been slightly changed from the Squaresoft version. Otherwise, barring any corrections or slight text changes that might have been made to the text that I didn't catch, the liner notes, slipcase, CDs and music are the same as the original SS version. The only real differences are the new catalog number and the removal of all DigiCube information and the addition of Square Enix info to the liner notes and slipcase. Does NOT come with an obi. Also does not have the sticker sheet or survey card. |
SonMay version:
| | | |
| --- | --- | --- |
| | | Comes in a double-CD jewel case with obi. (In my scan, you can see a crack on the back of the jewel case.) Does NOT come with a slipcase. The liner notes cover has the FF7 logo and follows the content of the limited-edition liner notes for the most part, except that it's missing all the pictures of Uematsu's work area. It also has all the same messages (printed in yellow text) from Tadashi Nomura and Kensuke Matsushita that were in the limited edition, so if you know Japanese well, it might be worth it to get the SM version to read these extra pages. Not surprisingly, the SM version removes Nomura and Matsushita's names from those messages. The liner notes fit inside the jewel case. |
EverAnime version:
| | | |
| --- | --- | --- |
| | | Comes in a double-CD jewel case, with a slipcase that looks the same as the SS version. Does NOT come with an obi or a survey card. For some weird reason, each CD says: "FINAL FANTASY VII CHARACTERS - Illustrated by Tetsuya Nomura." In the style of the FF8 OST, discs 1 and 3 are gray-silver; and discs 2 and 4 are gold (or at least close enough to that color). The liner notes are in the same style and have the same content as the SS regular version, and come separately outside the jewel case. |
---

Interesting note: In the EA version, the game logo on the spine of the slipcase and on the back of the liner notes is the FF7 International logo instead of the regular logo.


---
***

Disc 1: 23 tracks, 71:06

***
1
PURERYUUDO
(Prelude)
2:52
2
OUPUNINGU ~ Bakuha MISSHON
(Opening - Bombing Mission)
3:58
3
Makouro
(Demon furnace)
3:20
4
Fuan na kokoro
(Uneasy spirit)
4:02
5
TIFAA no TEIMA
(Tifa's theme)
5:06
6
BARETTO no TEIMA
(Barrett's theme)
3:27
7
Isoge!
(Hurry!)
2:29
8
Yami ni hisomu
(Hidden in the dark)
2:33
9
Shinra KANPANII
(Shinra company)
4:02
10
Tatakau monotachi
(The people fight)
2:47
11
FANFAARU
(Fanfare)
0:55
12
Kyoukai ni saku hana
(A flower blossoms in the church)
4:59
13
TAAKUSU no TEIMA
(Turks' theme)
2:19
14
Kusatta PIZA no shita de
(Beneath the rotting pizza)
3:22
15
Agerareta minshuu
(The oppressed people)
2:38
16
Mitsubachi no yakata
(Mansion of the Honeybee)
3:52
17
Omae wa... Dare da
(You...who are you?)
1:24
18
SURAMU no DON
(Don of the slum)
2:11
19
Shinra biru sennyuu
(Infiltration of Shinra building)
3:49
20
Sara ni tatakau monotachi
(Again the people fight)
3:32
21
REDDO 13 no TEIMA
(Red XIII's theme)
1:28
22
KUREIJII MOUTAASAIKURU
(Crazy motorcycle)
3:37
23
Omoi o mune ni
(Thoughts in my chest)
2:14
***

Disc 2: 21 tracks, 64:29

***
1
F.F. VII MEIN TEIMA
(F.F. VII main theme)
6:29
2
Tabi no tochuu de
(In the middle of a journey)
3:44
3
Oyasumi, mata ashita
(Good night, until tomorrow)
0:10
4
5-nen mae no ano hi
(On that day five years ago)
3:13
5
Bokujou no shonen
(Boy of the pasture)
2:52
6
WARUTSU DE CHOKOBO
(Waltz de chocobo)
0:34
7
EREKI DE CHOKOBO
(Electric guitar de chocobo)
4:02
8
SHINKO DE CHOKOBO
(Shinko de chocobo)
3:00
9
Kuro MANTO no otoko o oe
(Chasing the man with the black mantle)
3:04
10
Washi no toride
(Eagle fortress)
4:00
11
RUUFAUSU no kangei shikiten
(Rufus' welcoming ceremony)
2:14
12
Nihon ashi de tatsu no mo muzukashii monodana
(Difficult to stand on two legs)
3:31
13
Chi no ato
(Mark of blood)
4:13
14
J-E-N-O-V-A
2:32
15
Tsuzukikara
(Do you know who you are?)
0:37
16
Taiyou no kaigan
(Beach of sun)
2:28
17
Uragiri mono no rakuin
(Mark of a treacherous person)
3:32
18
Tankou no machi
(Coal miners' town)
3:00
19
GOURUDO SOUSAA
(Gold Saucer)
1:58
20
KETTO SHII no TEIMA
(Cait Sith's theme)
3:34
21
Suna no ryuukeichi
(The sands of the land of criminal exile; Prison sands)
5:33
***

Disc 3: 23 tracks, 69:57

***
1
Hoshi furu kyuukoku
(Valley where stars fall)
3:36
2
Seimei no nagare
(Lifestream)
3:36
3
Idai naru senshi
(Become a great soldier)
3:24
4
Shinobi no matsuei
(Descendents of shinobi)
2:45
5
Hoshi ni erabareshi mono
(The person chosen by the star)
3:16
6
Akumu no hajimari
(Beginning of the nightmare)
2:58
7
SHIDO no TEIMA
(Cid's theme)
3:11
8
TAINII BURONKO o oe!
(Chase the Tiny Bronco!)
1:16
9
UUTAI
(Wutai)
4:29
10
MATERIA itadaki
(Materia summit)
1:36
11
Honmei ana CHOKOBO
(Chocobo's favorite hole)
1:50
12
FIDORU DE CHOKOBO
(Fiddle de chocobo)
2:50
13
Ouatari!
(Great success)
0:47
14
Namida no TANGO
(Tango of tears)
0:49
15
Hatsu butai
(First stage)
2:36
16
Hanabi ni kesareta kotoba
(Words extinguished by fireworks)
2:50
17
Jukai no shinden
(Forested temple)
3:51
18
Hoshi no koe ga kikoeru
(Listen to the voice of the stars)
3:40
19
EARISU no TEIMA
(Aeris' theme)
4:18
20
Yuki ni tozasarete
(Enclosed by snow)
4:51
21
Kita no kaikudou
(The great north cave)
6:05
22
RIYUNION
(Reunion)
3:34
23
Ore wa...Dare da
(I...Who am I?)
1:37
***

Disc 4: 18 tracks, 68:35

***
1
Shinra-gun soukougeki
(Shinra army's attack)
2:57
2
UEPON shuurai
(Weapon invasion)
2:52
3
Sora kakeru HAIUINDO
(Run through the sky, Highwind)
3:35
4
Shinkai ni nemuru himitsu
(Secrets sleeping in the deep sea)
4:17
5
Henkutsu no mura
(The town's obstinancy)
2:26
6
Zetsubou no fuchi kara
(At the edge of hopelessness)
4:15
7
Yama no mukou ni
(To the opposite side of the mountain)
2:35
8
Motto isoge!
(Hurry more!)
2:57
9
Uchuu e no yume
(Dream of going into outer space)
2:50
10
Byouyomi kaishi
(Countdown start)
0:50
11
Kokoro hirakeba
(Open your heart)
2:47
12
Makou KYANON hassha ~ Shinra bakuhatsu
(The Mako cannon shoots ~ Shinra explosion)
1:33
13
Saigo no hi
(The day of one's death)
4:07
14
Kanzen na JENOVA
(Perfect JENOVA)
3:59
15
Kami no tanjou
(Birth of god)
4:11
16
Katatsubasa no tenshi
(One-winged angel)
7:19
17
Hoshi no kiki
(Crisis of the star)
8:05
18
SUTAFFU ROURU
(Staff Roll)
6:51
---


Related works: CDs with arrangements of FF7 tunes. All arrangements of the FF Prelude, FF Prologue, the Victory Theme, and the Chocobo Theme are listed with the FF1 soundtrack.
---
Back to the main Final Fantasy CD page

Last revised January 28, 2011