POTION
Relaxin' with Final Fantasy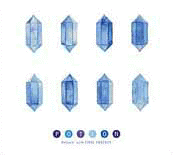 (Cover image taken from
Tokyopop)
Squaresoft catalog number:
SSCX-10051
(released 2/21/01 by DigiCube)

Square Enix re-release: SQEX-10073
(released 7/19/06)

---

EverAnime: GM-396
Top Circle/Yuanding: FF-07
Miya Records: MICA-0577

17 tracks
Total playing time: 66:23
Tracklist
Buy re-release from Play-Asia
Buy re-release from CD Japan


This CD is a compilation of previously published, arranged Final Fantasy music. A bonus track, "Shinai Naru Tomo E" from FF5, is the only new song, performed mainly in piano and flute.

From the original description from CD Japan: What's called the "Healing/Relaxation" music in Japan is the equivalent of New Age music (usually with a slight dose of other elements such as ethnic, folk or classical).


---

Squaresoft version: Liner notes contain tracklist in English and romanized Japanese. Comes with a survey card.


---

Interesting note: In the first printing, track 16 is incorrectly listed as "Rydia" from FF4 Celtic Moon on both the back cover and the liner notes; the track is actually "Troian Beauty" from Celtic Moon. Later printings have corrected this.


---
---
Back to the main Final Fantasy CD page

Last revised May 20, 2011