Distant Worlds:
Music From Final Fantasy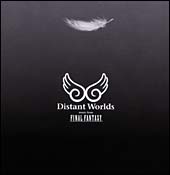 Domestic catalog number: AWR-10101
(released 2007 by AWR Records)

Square Enix catalog number: SQEX-10136
(released 1/14/09)

13 tracks
Total playing time: 74:32
Tracklist
Buy Square Enix version from CD Japan
Buy AWR version from Amazon.com


Orchestrated versions of various FF tunes, from FF1 to FF11 (except FF5 and FF10), performed by the Royal Stockholm Philharmonic Orchestra. For more information on the concert, visit the official website.


---

AWR version: The liner notes have the tracklist in English; a photo and message from Nobuo Uematsu; profiles of the Philharmonic Orchestra and the Allmänna Sången choir; and a photo and message from Arnie Roth. Everything is in English.

Square Enix version: The liner notes include all the content as the AWR version, with a few additions and changes. First, everything except the credits is in Japanese (kana), including the tracklist, the messages from Uematsu and Roth, and the descriptions of the orchestra and choir. Some credits for CD production have been added (they're all Japanese names, so I'm assuming this was the localization team for Japan), while the "special thanks" line that was in the AWR version was deleted from the Square Enix version. The liner notes also include 4 pages of various artwork representing each of the FF games from FF1 to 11, excluding FF5 and FF10; the artwork is a mixture of hand-drawn art by Yoshitaka Amano and CGI art and game screenshots. And, the Distant Worlds URL printed undernearth the clear CD tray is in all caps, and the logo and CD title on the left side under the CD tray are smaller than the AWR version. Also comes with a Square Enix point card.


---
1
Opening~Bombing Mission
(From FF7)
4:03
2
Liberi Fatali
(From FF8)
3:15
3
Aerith's Theme
(From FF7)
5:48
4
Fisherman's Horizon
(From FF8)
4:53
5
Don't be Afraid
(From FF8)
3:45
6
Memoro de la Stono~Distant Worlds
(From FF11)
Sung in English by Susan Calloway
8:42
7
Medley 2002
Medley of various tunes from FF1 to FF3. Includes the FF prelude, FF1 overworld theme, FF1 Matoya's cave, FF3 Elia the Maiden of Water, the chocobo theme, and FF2 Rebel Army Theme.
8:04
8
Theme of Love
(From FF4)
5:22
9
Vamo' alla Flamenco
(From FF9)
4:15
10
Love Grows
(From FF8)
5:11
11
Opera "Mario and Draco"
(From FF6)
Sung in English by Emma Wetter, Fredrik Strid and Johan Schinkler. The lyrics are different from the in-game version, but I could've sworn I've heard these somewhere else before. In the million other FF6 opera versions out there.
12:15
12
Swing de Chocobo
An arrangement of the chocobo theme
4:33
13
One-Winged Angel
(From FF7)
4:25
---
Back to the main Final Fantasy CD page

Last revised May 09, 2011