Distant Worlds II:
Music From Final Fantasy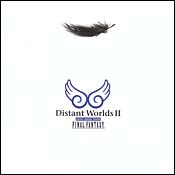 Catalog number:
AWR-10102
(released May 2010 by AWR Records)

Square Enix catalog number: SQEX-10205
(released 11/03/10)

13 tracks
Total playing time: 62:48
Tracklist
Buy Square Enix version from CD Japan
Buy AWR version from Amazon.com


Second collection of orchestrated versions of various FF tunes, from FF1 to FF11 (except FF2, FF3 and FF4), performed by the Royal Stockholm Philharmonic Orchestra. For more information on the concert, visit the official website.

The way Susan Calloway pronounces "Suteki da ne" puts me off a little. She pronounces it "Suteki da nay" -- like she's a Congress person giving a negative vote for a bill.


---

AWR version: The liner notes have the tracklist in English; photos and messages in English from Nobuo Uematsu and conductor Arnie Roth; lyrics to the English version of "Melodies of Life" and for "Suteki da ne" in translated English; and various photos of the orchestra and sheet music scores. Does not originally come with an obi.

Square Enix version: The liner notes are the same as the AWR version, with a few changes and additions. First, the messages from Uematsu and Roth have been translated into Japanese (kana), and the tracklist uses the Japanese song titles taken from the soundtracks. Some credits for CD production have been added (they're all Japanese names, so I'm assuming this was the localization team for Japan). Also, the last line in the credits gives special thanks to "All of our friends at AWR Music Productions, LLC" -- in the AWR version, it thanks everyone at Square Enix. Also comes with a Square Enix point card.


---

Interesting note: The copies I had were a bit strange, aside from the CD titles on the spines being flipped (I suppose it's to account for the fact that Japanese usually read right to left). The paper underneath the CD tray in the AWR version had the Distant Worlds website URL printed so that it was centered on the paper, and the title of the CD was printed vertically along the left edge so that you could see it through the top part of the spine even when the cover was closed (the CD trays in both versions are clear). In the Square version, the URL is off-centered toward the left, and the CD title is pressed up against the very edge of the inside of the left spine (the edge you normally see when you store CDs on a shelf). The tracklist on the back of the Square version is still centered, though, so I'm guessing that the other side was a misprinting.


---


Titles in bolded italics are what is printed in the Square Enix version. The titles are taken directly from their respective soundtracks; please check the corresponding pages for title translations.



1
Prelude
PURERYUUDO
3:21
2
The Man With the Machine Gun
(From FF8)
3:37
3
Ronfaure
(From FF11)
4:44
4
A Place to Call Home - Melodies of Life
Itsuka kaeru tokoro~Melodies of Life (Eigo BAAJON)
English version sung by Susan Calloway
(From FF9)
6:58
5
Zanarkand
ZANARUKANDO nite
(From FF10)
4:34
6
Dancing Mad
Yousei ranbu
Featuring Nobuo Uematsu's band Earthbound Papas
(From FF6)
10:47
7
Victory Theme
Shouri no TEEMA
0:12
8
Suteki da ne
Suteki da ne (Eigo BAAJON)
English version sung by Susan Calloway
(From FF10)
6:27
9
Terra's Theme
TINA no TEEMA
(From FF6)
4:21
10
Main Theme of Final Fantasy VII
F.F.VII MEIN TEEMA
(From FF7)
6:44
11
Prima Vista Orchestra
PURIMA BISUTA gakudan
(From FF9)
1:33
12
Dear Friends
Shin'ai naru tomo e
(From FF5)
5:12
13
JENOVA
J-E-N-O-V-A
(From FF7)
4:18
---
Back to the main Final Fantasy CD page

Last revised May 09, 2011