Final Fantasy XI
Original Soundtrack
Premium Box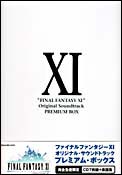 Square Enix catalog number:
SQEX-10088-94
(released 3/28/07)

---

Miya Records FFXI Piano Collections: MICA-0807
Miya Records FFXI Unreleased Tracks: MICA-0808

Music by Naoshi Mizuta, Kumi Tanioka and Nobuo Uematsu

7 discs, 143 tracks total
Total playing time: 7:32:28
Tracklist

Buy from Gamemusic.com
Buy from Play-Asia
Buy from CD Japan



This 7-CD set includes the original FF11 soundtrack, the Rise of the Zilart soundtrack, the Chains of Promathia soundtrack, the Treasures of Aht Urhgan soundtrack, an FF11 Piano Collections (this is DIFFERENT from the standalone piano collections album), and a CD titled "FFXI Unreleased Tracks." In this collection, all the games are referred to by their official English names. For more information, visit the Square Enix site.

This collection has been partially bootlegged by some companies. If you've seen solo CDs of the FFXI Unreleased Tracks or the Piano Collections (the one with a blue piano on the cover), those are bootlegs.


---

Square Enix release: This oversized set comes in a thick cardboard slipcase measuring a little less than 8.25 inches wide and a little more than 11.5 inches high. The CDs come in separate slim "folders," each about the same size as the slipcase; most of them have artwork by Yoshitaka Amano on the outside and game screenshots on the inside. Tracklists and music credits for the respective CDs are printed on the inside covers. Also includes a scorebook for the piano collections.

Miya Records - Piano Collections:


The liner notes have just the tracklist and credits in English. The particular copy I got came with a glossy slipcase, but this may change with later pressings. Does NOT come with an obi, but that also may change with later pressings if they stop including a slipcase. The piano scorebook is separate from the jewel case and is a little smaller than the size of the slipcase; it slides inside the slipcase. All printings of the tracklist are in English. Tracklist and play times are the same as the official SE release.

This and Miya's "Unreleased Tracks" have got to have the flimsiest jewel cases I've ever felt. I've handled a lot of bootleg CDs and jewel cases, and most of them are actually decent quality. But these Miya ones feel as though they'll fall apart the instant you breathe on them.
Miya Records - Unreleased Tracks:
| | | |
| --- | --- | --- |
| | | The liner notes have just the credits in English. The particular copy I got came with a glossy slipcase, but this may change with later pressings. Does NOT come with an obi, but that also may change with later pressings if they stop including a slipcase. All printings of the tracklist are in English. Tracklist and play times are the same as the official SE release. |
---

The tracklists and playtimes for all the previously released soundtracks are the same as their original releases (except for a couple of spelling differences in Chains of Promathia as noted above); please see their respective pages on this site for the tracklistings:



***

Final Fantasy XI Unreleased Tracks
SQEX-10093; 18 tracks, 50:51
Composed by Naoshi Mizuta

***
1
A Road Once Traveled
2:53
2
One Last Time
3:26
3
Eternal Oath
2:15
4
To the Heavens
1:14
5
Bloody Promises
2:08
6
Hook, Line, and Sinker
1:32
7
The Big One
2:09
8
Choc-a-bye Baby
2:42
9
Revenant Maiden
1:32
10
Hidden Truths
2:20
11
Moongate (Memoro de la S^tono)
1:32
12
Celestial Thunder
1:19
13
A Realm of Emptiness
3:50
14
Distant Worlds
Sung by Izumi Masuda
5:20
15
Jeuno -Starlight Celebration-
5:09
16
Sunbreeze Shuffle
2:32
17
Distant Worlds -Guitar Version-
5:18
18
Ru'Lude Gardens -Star Onions Version-
3:40
***

Piano Collections
Final Fantasy XI
SQEX-10094; 10 tracks, 38:47
Composed by Naoshi Mizuta

***
1
The Federation of Windurst
From FF11
Piano: Ayumi Iga
3:50
2
Rabao
From Rise of the Zilart
Piano: Kasumi Oga
4:16
3
Choc-a-bye Baby
Piano: Kasumi Oga
3:19
4
Moblin Menagerie - Movalpolos
From Chains of Promathia
Piano: Kasumi Oga
3:43
5
Battle Theme #2
From FF11
Piano: Ayumi Iga and Kasumi Oga
2:25
6
Faded Memories - Promyvion
From Chains of Promathia
Piano: Ayumi Iga
5:09
7
Jeweled Boughs
From Treasures of Aht Urhgan
Piano: Ayumi Iga
4:21
8
Tu'Lia
From Rise of the Zilart
Piano: Ayumi Iga
4:05
9
Distant Worlds
Music by Nobuo Uematsu; Piano: Ayumi Iga
5:23
10
Vana'diel March #4
From Treasures of Aht Urhgan
Piano: Ayumi Iga and Kasumi Oga
2:16
---
Back to the main Final Fantasy CD page

Last revised August 23, 2009