Final Fantasy XI: PUROMASHIA no Jubaku
Original Soundtrack
(Spell of Promathia;
Chains of Promathia)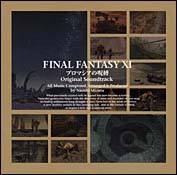 Contains music from the second expansion to Final Fantasy XI Online for the PC, titled "PUROMASHIA no Jubaku" (Spell of Promathia), which has been renamed "Chains of Promathia" in the U.S. release.


---

Square Enix version: The fold-out liner notes have the tracklist in English; screenshots from the game; and a message from composer Naoshi Mizuta.


---
Interesting notes:
Track 13 is spelled "Ŝtona" on both the back cover tracklist and the liner notes tracklist. I'm assuming it should actually be "Ŝtono" as in the original FF11 soundtrack, but I'm keeping it as it's printed in the tracklists.


The spellings of a couple song titles are different from the ones found in the soundtrack premium edition. They're most likely typos:

- Track 13: "Ŝtona" in the regular version, "Ŝtono" in the premium version.
- Track 19: "Fifth" in the regular version, "Fifthe" in the premium version.
---
1
Unity
1:49
2
Moblin Menagerie - Movalpolos
4:37
3
Depths of the Soul
2:41
4
Faded Memories - Promyvion
5:25
5
Currents of Time
4:23
6
First Ode: Nocturne of the Gods
0:57
7
A New Horizon - Tavnazian Archipelago
3:33
8
Onslaught
2:24
9
The Forgotten City - Tavnazian Safehold
2:44
10
Second Ode: Distant Promises
2:31
11
The Ruler of the Skies
1:31
12
Turmoil
2:20
13
Third Ode: Memoria de la Ŝtona
(Yes, it's spelled "Ŝtona" in the tracklists.)
0:52
14
Happily Ever After
2:41
15
Conflict: You Want to Live Forever?
3:54
16
Conflict: March of the Hero
3:31
17
Fourth Ode: Clouded Dawn
1:43
18
Words Unspoken - Pso'Xja
4:14
19
Fifth Ode: A Time for Prayer
1:40
20
The Celestial Capital - Al'Taieu
7:26
21
Gates of Paradise - The Garden of Ru'Hmet
6:34
22
Dusk and Dawn
2:42
23
A New Morning
4:35
24
Gustaberg (Bonus Track)
3:33
---


Related works: CDs with arrangements of Chains of Promathia tunes. Please check the original FF11 page for arrangements of other FF11 songs. All arrangements of the FF Prelude, FF Prologue, the Victory Theme, and the Chocobo Theme are listed with the FF1 soundtrack.
---
Back to the main Final Fantasy CD page

Last revised August 10, 2010