Final Fantasy XI: JIRAATO no Gen'ei
Original Soundtrack
(Rise of the Zilart;
Vision of Zilart)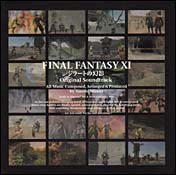 Square Enix catalog number: SSCX-10093
(released 5/21/03 by DigiCube)

Square Enix re-release:
SQEX-10034
(released 9/23/04)



---



Alion International Records (Taiwan bootleg): ALCA-8200

All music composed, arranged and produced by Naoshi Mizuta

19 tracks
Total playing time: 70:12
Tracklist

Related works (non-bootleg)

Buy re-release from CD Japan
Buy re-release from Play-Asia



Contains music from the first expansion set of Final Fantasy 11 Online, titled "JIRAATO no Gen'ei" (Vision of Zilart), which has been called "Rise of the Zilart" in the U.S. release.


---

DigiCube version: The fold-out liner notes have the tracklist in English; screenshots from the game; and a message from composer Naoshi Mizuta. Also comes with a customer survey card.

Square Enix re-release: Barring any corrections or slight text changes that might have been made to the text that I didn't catch, the liner notes, CD and music are the same as the original DigiCube version. The only real differences are the new catalog number and the removal of DigiCube's information in the liner notes, obi and back cover.




---
1
Kazham
2:38
2
Yuhtunga Jungle
8:16
3
Battle Theme #3
2:17
4
"Dash de Chocobo"
Music by Nobuo Uematsu; arrangement by Naoshi Mizuta
3:29
5
Rabao
4:30
6
Altepa Desert
4:19
7
Battle in the Dungeon #3
2:11
8
Grav'iton
1:50
9
Norg
3:24
10
Tough Battle #2
2:47
11
The Sanctuary of Zi'Tah
4:14
12
Ro'Maeve
4:27
13
Hall of the Gods
4:33
14
Fighters of the Crystal
3:32
15
Tu'Lia
3:56
16
Ve'Lugannon Palace
5:42
17
Eald'narche
1:54
18
Belief
3:29
19
End Theme
2:44
---


Related works: CDs with arrangements of Rise of the Zilart tunes. Please check the original FF11 page for arrangements of other FF11 songs. All arrangements of the FF Prelude, FF Prologue, the Victory Theme, and the Chocobo Theme are listed with the FF1 soundtrack.
---
Back to the main Final Fantasy CD page

Last revised February 07, 2011